In addition to providing power and communications links to the core set of instruments maintained by the observatory, the offshore nodes and the meteorological mast act as "extension cords" into the coastal environment, allowing connection of a wide range of user-provided sensors and instruments for prolonged deployments.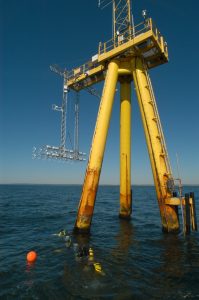 The Air-Sea Interaction Tower (ASIT)
41°19.501'N,  70°34.000'W
The ASIT is a cabled, fixed platform located 3 km south of Martha's Vineyard in 17-m of water.  The ASIT currently extends to 23 m above mean sea level (amsl), with a platform at 13 m suitable for larger instruments.  The ASIT is exposed to predominantly open ocean wind and wave conditions, with the 'diving board' the platform level extension pointing toward 253 degrees True, in the direction of the mean summer and winter winds. WHOI maintains a suite of atmospheric sensors on the ASIT including fixed sonic anemometers and air temperature, air pressure, and relative humidity sensors that are considered core measurements of the observatory.
An upgrade to the power and communications systems of the tower in 2018-2019 allows the ASIT to now provide up to 6 kW of power and enhanced fiber optic data transfer speeds to support testing and validation of new atmospheric and oceanographic sensors and platforms.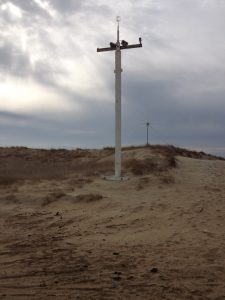 Meteorological Mast and Equipment Shed at South Beach
41° 20.996' N, 70° 31.60' W   
Located at the South Beach State Park in Edgartown, MA. The meteorological mast and equipment shed support long term observations of the coastal zone.  The mast, extending to 10-m provides a mounting point for meteorological sensors as well as camera focused on the ever-changing beach environment.   The nearby equipment shed hosts larger sensors, and electronics to support land based observing systems.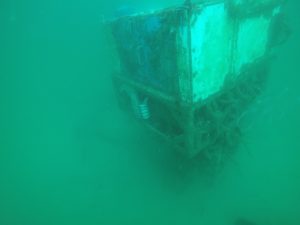 12-m Underwater Node
41°20.1950'N, 70°33.3865'W
Located 1.5 km offshore of Martha's Vineyard in 12-m of water, the bottom-mounted underwater node offers a sub-sea link to the coastal ocean.  The underwater node's transformers and science support equipment are designed to be diver serviceable and utilized wet-mating plugs for the installation of additional, user-supplied, sensors.  With ample power and communications available for standard acoustic or hydrographic sensors, the underwater node has traditionally hosted sensors measuring ocean currents, wave conditions, as well as near-bottom, temperature and salinity observations.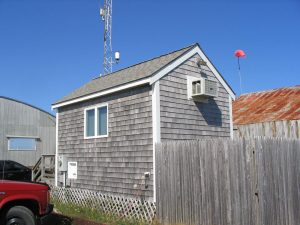 Shore Lab
The MVCO Shore Lab is the central link between the meteorological and subsea instrumentation.  All assets are connected directly to the shore lab via a buried electro-optic power cable that provides links directly to WHOI and power to each of the assets. The Shore Lab also hosts a short 10-m mast that has, in the past, hosted a core set of instruments to measure air temperature, humidity, precipitation, and solar and IR radiation.